5 CHILDHOOD THINGS YOU PROBABLY 'DO' REMEMBER || the grand sequel you've been waiting for + I'M 15
11:52 AM
Turning 15 has made me think about how old I am. It just gets older n' older n' older from this point, basically. And you know what??
I still remember when I thought being 10, was, well,
that was it
.
And I can also recount when my 14 year old brother would tell me I could not come to things because 10 was
too young
. How that used to spark my temper! How young I was then!
How young
he
was!
I'm learning so many things, one being that God listens to your prayers, so,
please pay attention
to what your praying. And be careful. Listen for warning signals. One day can make you feel a
whole lifetime
older. As L.M Montgomery's words keep popping in my head...
"The body grows slowly and steadily but the soul grows by leaps and bounds. It may come to its full stature in an hour."
Extremely true. God can be working on us to get us to a certain point, and then-BLAM-suddenly were at a low point. And our soul can grow and learn so much from these little learning lessons.
"For the LORD disciplines those he loves, and he punishes each one He accepts as His child."
Okay, reading that, you're probably like "K I'm scared now." But lemme help you for a moment. Sometimes we are unconsciously going in directions that would mess up our lives. Not necessarily wrong or right, just paths that would not be best for our characters, our joy, or our Christian relationship. So God has to put his hand in front of us; and sometimes we run into it. So yes, it can hurt. But when we get over the pain, we see the beauty, and when our bruises heal, we can see the cliff feet away.
God knows us. Our quirks. Our advantages in life and disadvantages. We have to let go of the steering wheel. Which, trust me, is not easy. But what we don't realize is we could be making a simple task
way
harder than it needs to be.
So let go for a moment.
And maybe laugh at yourself...it helps.
Mickey Mouse and the three Musketeers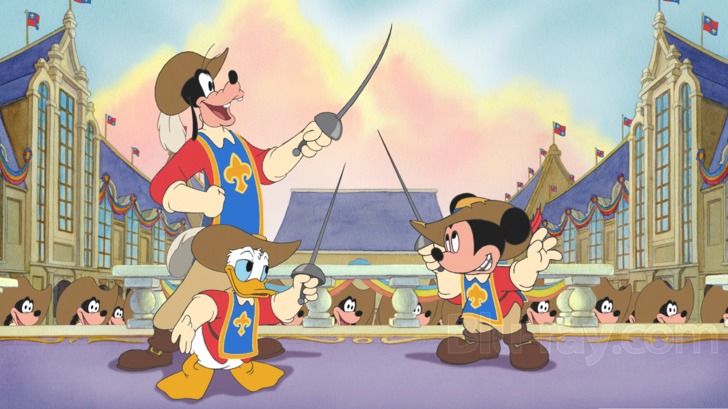 *realizes this movie is from 2004*

WOAH.

When I was a wee bobby *laughs* this was one of those movies I literally watched till I COULD PLAY IT IN MY HEAD. Dunno why I liked it so much; perhaps it was the rooster with the instrument (was that a guitar or a banjo or what even), or when Donald gets mad, or the old-timey setting, or Mickey's ginormous eyes when he went to cry. Come on you all remember that.
I don't even know if other people watched this.
But let's just say I watched it enough for other people.


the Backyardigans
DON'T EVEN LIE, I know you remember this. I legit just had a small revelation when I found out it was a Canadian-American show...so that would be why there was a moose. *brain expands*
This show made me wander where and why people had propeller beanies. Or why penguins would wear propeller beanies. That's right, were gettin' deep.
There also came a time when, after some suspended adventure moment, they would all stop and sing, and me and Josh started yelling at the T.V.
Lincoln Logs & Baby Alive
I was a bit of a tomboy when I was little (okay I was a lot of a tomboy. Frogs and mud were it back then), so building log cabins with Lincoln Logs beside Josh and then mixing Legos into the party was an average play-day. Lincoln Logs are just the smartest thing. Until your brother thinks it's fun to knock over your carefully constructed dream home...
*WAR WAR III BEGINS*
My friend had a Baby Alive when I was about 5 or 6. Some of you all might have cherished and loved those things, so please don't be offended when I say that it was creepy. I mean it could pee, people, and it had the literal weirdest feeling skin and hair. I'm so happy we did not join the mess-making inanimate object train. *whew* *shivers*.
Gone Fishin' & SCRABBLE
*Sees this on Pinterest*
*shouts incredulous to Mom*..."YOU REMEMBER THAT GAME WITH THE FISH AND FISHING POLES???!!!"
I actually thought this game was one of those dollar-store things they make for a month and then no one else knows or has them but you. Turns out I was wrong *jaw-drops*.
If you never played with this amazing, time-consuming, battery-draining object, lemme fill you in. The blue water-plastic base spun around, while the fish, who bobbed up and down, tried to snap at the lures on the fishing poles. I believe there was some point or score to this whole thing...but in the end we were rather fascinated with the fish's teeth and hinged jaws and somehow the poles got lost or broken. And the batteries, after a long and faithful journey, gave out.
*MEMORIES*
Scrabble is still a huge game for us all to play. But when I was little it was a whole other game. *ahem* there were a few...a bunch, of words that probably never existed.
*Me to Josh* "that's not a word!!!"
*Josh* "Yeah it is!"
"Well look it up!"
*a heated debate similar to Fox News descends upon us*.
the Emperor's New Groove, Birds on a Wire...and Fat Albert
I grew up trying to decide whether Yzma was an old woman or a purple onion.
Either or, Emperor's New Groove was basically the all-around kids movie. Pssh, what am I saying, it's the all-around any age movie. Kuzco's facial expressions tho. And Kronk!
K so I did not know they were still playing birds on a wire. Saw this pin the other day and completely related...today's kids won't even know how deaf we got when we saw the THX come on the screen.
Was I the only one who watched the Fat Albert movie or did you all watch that too?? LOL google labeled it as a 'romantic comedy' *dries eyes*. We legit still say "Check it, B" and sing the
"nanana gonna have good time, HEY HEY HEY"

Did you relate again?
Would you eat Kronk's spinach puffs?
Did Mickey's eyes make you cry?
...PS: I'll be 15 on April 19th...